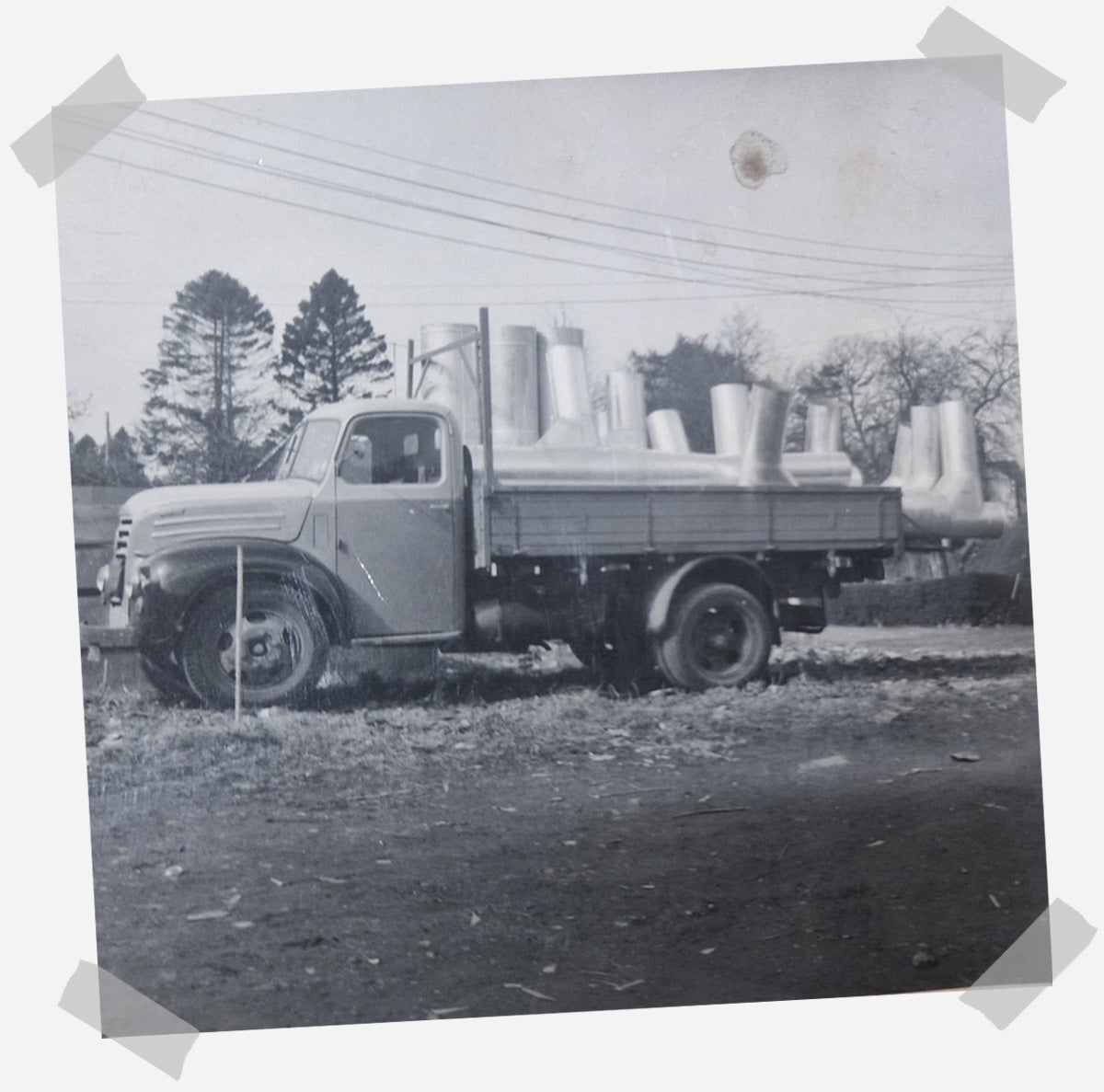 The Early Days
Now specialising in ornamental metalwork with a focus on gift items and their wide library of designs, today's products are a far cry from what the company originally made. It's clear that Jake is very proud to be the 4th generation in a line of Tarrant metalworkers, as he tells of how his Great Grandad "introduced metal working to the family with ornamental architectural work, vehicles, and other general fabrication jobs. He then took on his son as an apprentice to pass on the skill sets and set up a business together, reclaiming and repairing architectural metalwork affected during WW2. My Grandad then evolved his skill set and went into heating and ventilation, starting his own business in 1963 with a friend of his." Vicki goes on to explain the early days of this new venture, saying "we were always a heating and ventilation company, and were started off based on 'Bret's Yard' in Balcombe, which was just a series of old sheds. That's where the company name – Bretvents – came from, because it was ventilation done at Bret's yard. So although the company has been running for longer, we only incorporated Bretvents in 1963, once we had the name and the set up. We have an old photo of our very first delivery lorry taken in Bret's yard, somewhere!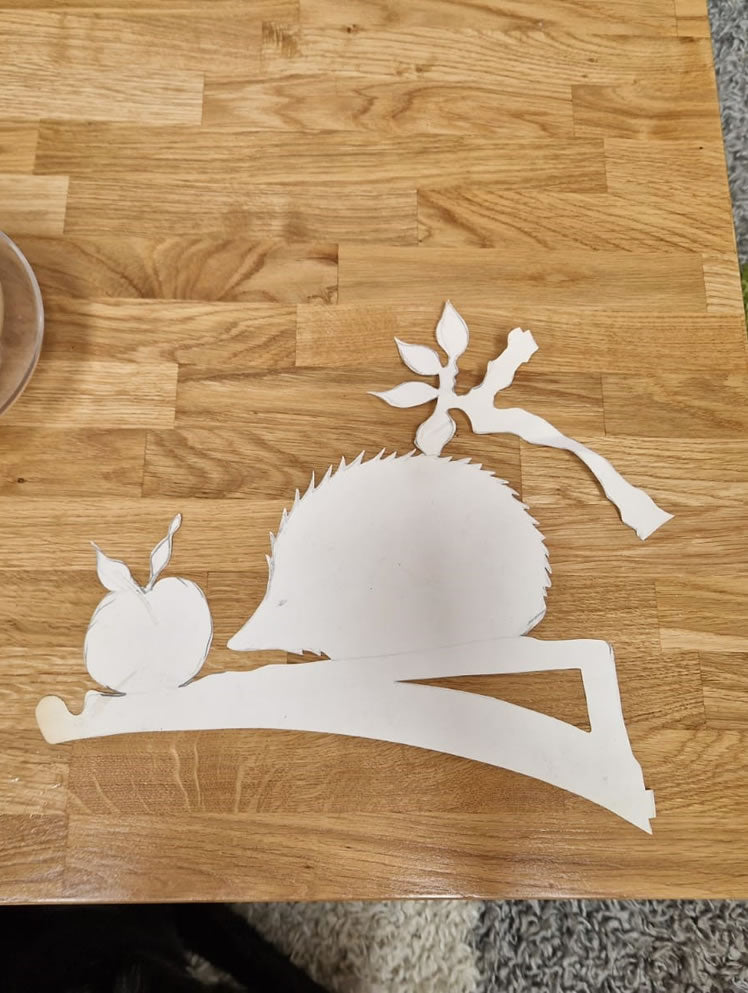 From Vents to Vanes
With the scale and success of the ventilation business, it's a wonder as to how 'The Profiles Range' ever even became a consideration. Vicki talks through the tribulations that led to the company beginning. "By the earlier 80s Jake's Dad, Keith was running the business, we had set up new workshops in Uckfield, and I had started working in the office alongside Keith's Mum. We had some with big contracts with WSCC and Gatwick North Terminal, and for big jobs like that, you need big machines, so we bought our first plasma cutter. It was the most amazing machine and whilst it was really for cutting out ducting patterns I soon started to play at cutting pictures of the boys (Jake and Mark) on their ponies, and this is where the inspiration for the Profiles came from really, even if I didn't realise it at the time. Then in the early 90s there was a massive crash in the building trade, and lots of our customers simply stopped spending, and suddenly we had no work and no money. Being a family business we simply had to survive – there was no other option really, but we managed to keep all of our loyal staff paid and we rode the storm. 
Then in 1994 Keith had a heart attack, and then we were really 'up the creek without a paddle – he was the technical expert and without him we couldn't do the clever engineering or any of the ducting. They say that necessity is the mother of invention and it certainly is. Remembering the cut outs of the boys on their ponies I set about creating our very first designs, which I sat and drew and cut out on the kitchen table – they were a hedgehog, squirrel, birds nest, cat, horse, and a mouse. We made the first brackets and then the whole family was going out and about to craft fairs and Christmas markets selling them, which meant Bretvents survived and The Profiles Range was born."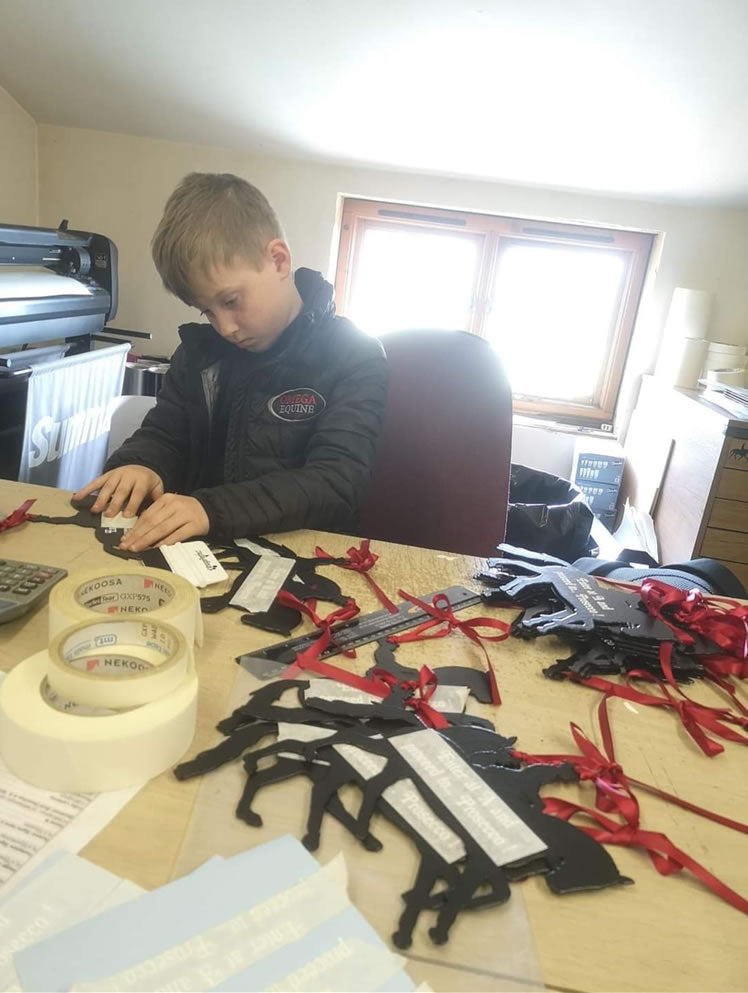 The next generation
Family is clearly something that the company holds dear, as Vicki explains, "Almost our entire extended family has worked in the business at some point, and today there are still 4 family members here along with our staff, who we really feel are all our family too. Today my son Jake and I run the business together, which has expanded beyond our wildest imaginings." So how exactly did Jake go from pestering his Mum and Dad at local fairs, to driving a HGV full of Profiles products round the country, working on trade stands all around the world, organising the workshop and running the company alongside his Mum? He explains, "I originally turned down Dads offer of working in the family business, and flitted off to go and enjoy a career with horses – after a few years I decided I should probably get a proper job, so I came back to work with Dad at Bretvents. I developed our sister range, Equivation, which specialises in feed and tack storage, before Profiles well and truly took over, Dad lost our workshop space to bracket storage and we decided well, if you can't beat them, join them!" Vicki laughs, adding, "and now he is the technical expert for everything – I have the ideas, and poor Jake has to turn them into a reality!"  
With realisation dawning that they'll soon be celebrating their 70th anniversary, Vicki says of the future, says "I am sure that I will be retiring soon and I know that Jake will be happy to get rid of me (not really!) - whether any of my gorgeous grand children decide to pick up the baton  remains to be seen! I think really we just want what every small business owner wants – we want the company to grow in success whilst still keeping our core values and looking after the family, for many decades to come".